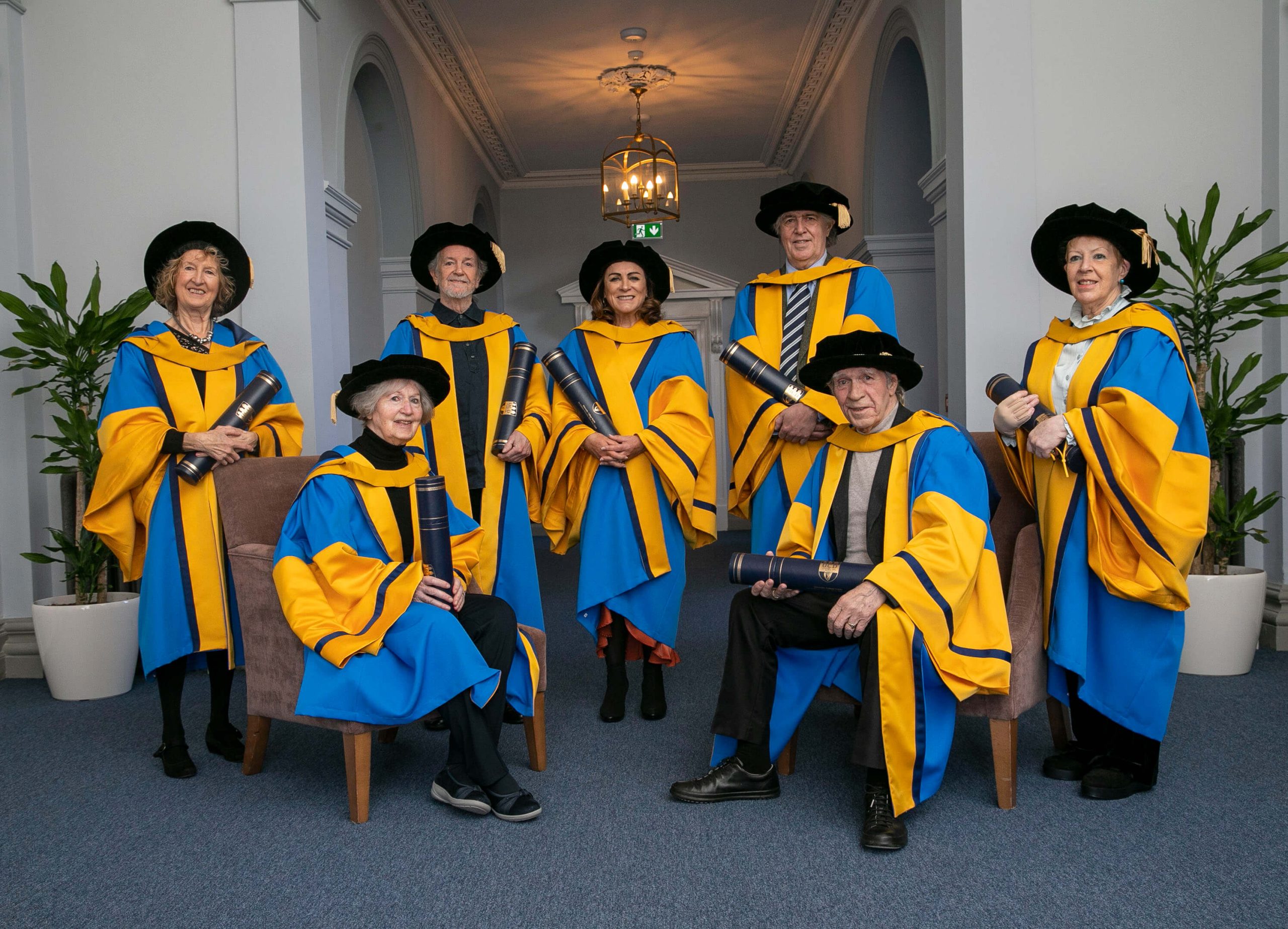 UCD awards honorary doctorates to Mary Bergin, Mary Black, Finbar Furey, Paddy Glackin, Andy Irvine, Triona Ni Dhomhnaill and Mary O'Hara 
Celebrating some of the stellar talents in Irish music and in recognition of their outstanding contribution to arts and culture, on 18 March, the University awarded honorary doctorates to Mary Bergin, Mary Black, Finbar Furey, Paddy Glackin, Andy Irvine, Tríona Ní Dhomhnaill and Mary O'Hara. The Ulysses Medal (our highest honour) was due to be awarded to Paul Brady but sadly he was unable to attend and the Medal will be awarded at a future date.
The awards were conferred by UCD Registrar and Deputy President, Professor Mark Rogers at UCD O'Reilly Hall and celebrate the outstanding contribution these artists have made to Irish music and culture, and the central role they played in the Irish folk music revival. Professor Rogers drew on the powerful words of Paul Brady's iconic song 'The Island' in his closing speech, the words of which resonate with all of us at this time. "While we are just a small island on the western edge of Europe, we want to reach out to our sisters and brothers in Ukraine…
Now I know us plain folks don't see all the story.
And I know this peace and love's just copping out.
And I guess these young boys dying in the ditches.
Is just what being free is all about.
And how this twisted wreckage down on main street.
Will bring us all together in the end.
And we'll go marching down the road to freedom….
Freedom"
The group of distinguished artists honoured an invited audience of 700 with a performance that evening, and were joined by special guest Donal Lunny and by a talented 'house band' of UCD students and alumni, the future is safe! It was a night to remember, expertly compered by Associate Professor PJ Mathews, Director of UCD Creative Futures Academy.
"Arguably the most influential singer-harpist of the twentieth century, Mary O'Hara brought the harp to worldwide audiences, playing concerts to full capacity audiences at the Royal Festival Hall, in New York City at Carnegie Hall, and in London at the Royal Albert Hall. As a solo singer with harp, singing songs in Irish, Mary O'Hara was a unique artist showcasing traditional music at a time when Ireland was experiencing a recession akin only to that which we are now facing. Let the music play!"
"Having attained the highest of accolades from his peers in the world of traditional music, Finbar is somewhat unusual among traditional musicians in having gone on to achieve huge popularity among the broader populace in Ireland and abroad, establishing himself as a major figure in the national consciousness and playing a central part in the revival of Irish traditional and folk music which took place from the late 1960s onwards. Finbar thus performed the almost impossible feat of pleasing purists and proletariat alike, for which he most certainly deserves yet another medal."
"An inspirational teacher of the tin whistle, Mary's 'Irish Tin Whistle Tutorial' series was described by the late Paddy Moloney of the Chieftains as 'pure genius'. In her teaching, the many facets that give traditional music its distinctiveness are explored and interpreted. In her teaching, Mary pays attention to what she refers to as the 'internal rhythm' of the music, the essence of the music, the breathing; almost like a meditation. Avoiding over emphasis on the technicality, she searches with her students for the feeling, the heart and soul of the music, croí agus anam an cheoil but the fun and the enjoyment of the music, the comhluadar – the joyous company that surrounds a traditional music session is never far away."
"Paddy Glackin is one of Ireland's most eminent fiddle players, a shining light in the popular wave of the Irish folk revival from the 1970s, as well as being an illustrious broadcaster and producer, and a respected authority on the history of traditional music in Ireland. It is entirely fitting that he featured in an iconic album from the 1980s showcasing the cream of Irish performers entitled The High Kings of Tara as he is indeed musical royalty, and something of a legend."
"Ó thus a ré mar amhránaí, mar cheoltóir, mar ealaíontóir agus mar chumadóir ceoil den chéad scoth a bhainfeadh cáil idirnáisiúnta amach, léirigh Tríona Ní Dhomhnaill féith an dúchais agus tábhacht na hoidhreachta as ar shíolraigh sí ina saothar iomráiteach. Bhí an Ghaeilge lárnach ina lán gnéithe dá saol faoin am sin ach ba thionlacan nádúrtha í an Ghaeilge seachas príomhfócas na cumadóireachta. D'éirigh léi a teanga agus a cultúr dúchais a phósadh i mbealach a lig dá buanna bláthú, agus a ghreamaigh áit tábhachtach di i bpobal na Gaeilge agus na hÉireann mar aon le bheith ina ceannródaí clúiteach ceoil ar stáitse an domhain."
"A singer of remarkable grace and subtle expression of feeling, Mary Black's achievement extends from the purity of her 1983 debut album to the atmospheric setting of some of her best-known songs by the National Symphony Orchestra, just over two years ago. Despite the scale of this recognition, she remains attentive to the individual composition, with an ear attuned to the exact relationship between the shape of the lyric and its instrumentation. In addition to this instinct for musical form, her unerring sense of how a group of talented musicians will combine to produce a near-perfect performance is, by now, legendary. But it is her voice – a voice of unparalleled clarity and control – that draws these elements together into a singular and lasting art."
"A wise man once said: nothing gives the illusion of permanence like tradition. When one experiences an aspect of intangible culture, they immediately either accept it as familiar and part of a known repository that is already established, or else it is labelled as other, different or perhaps even exotic. Most noted perhaps of Andy Irvine's many musical talents is his instinctive ability to integrate innovative elements into the world of tradition. This he continues to achieve, in a manner whereby his audience is at once at ease and receptive as if this has always been the practice. He was not dismissive of previous traditions but found an approach to build on what had gone before, while at the same time keeping the integrity to the core and alive."